Things to Do
Bath – A National Trust Historic Destination!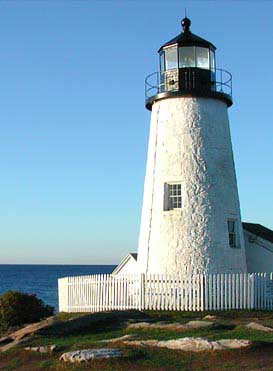 To help you plan your activities while you stay with us, I have put together a list of "Things To Do" which you will find if you scroll down to the end of this section. This list includes local area restaurants, several of which are within a ten minute walk from The Inn.  I am happy to help you arrange your plans or you can contact the companies directly.
Called a city, but really a small town, Bath is located on the Kennebec River about 10 miles inland from the sea with which it has had a romance for centuries.  Because of its location on the Kennebec River and the river's inland proximity to timber, Bath became one of the largest centers of wooden-hull shipbuilding and shipping commerce on the eastern seaboard in the 1800's.

However, the Kennebec River has been home to boat building in Maine since the first ship built by Europeans in the new world was built in 1607!  The Bath Freight Shed is now home to Maine's First Ship where volunteers are building a replica of the Virginia– stop by and watch, and learn! The story of the Virginia, as well as all the great ships that followed, may be found at the Maine Maritime Museum in Bath.  It is a wonderful museum that can easily occupy a day, rain or shine. which is located just two miles from The Inn at Bath.  They not only tells the history of this area's shipbuilding heritage, but also have fabulous exhibits of  Bath's Shipbuilding past and present.  Not to be missed, and it's not just a guy thing, ladies!  They also have wonderful seasonal boat trips on the Kennebec River  as well as trolley rides that tell the story of Bath shipbuilding with an emphasis on Bath Iron Works.  Reserve ahead for these, both via the Museum web-site.I also think it's useful to discuss a few specific things to do which I believe make Bath a special place to visit. When people call and ask what is there to do in our area, I start by telling them about our two extraordinary beaches as I am always amazed how few people know about them. Reid State Park, on Georgetown Island is both a rugged and rocky, and a sandy, beach.  Popham Beach State Park and Popham Beach are at the end of our peninsula, where the Kennecbec River meets the ocean, and have a marvelous pristine quality with a beautiful five-mile stretch of white sand.  Rated one of the most beautiful beaches in New England, Popham Beach is particularly noteworthy because it is close to the site of the unsuccessful 1607 Popham colony as well as Fort Popham, a Civil War bastion, and Fort Baldwin, a World War I redoubt.
Fall foliage enthusiasts should also know that the states of New Hampshire and Vermont do not have a corner on the foliage market (the same can be said for maple syrup).  The great advantage of visiting Maine in the fall is that you can combine the beauty of autumn leaves with the grandeur of our beaches.
Today, Bath still boasts a major shipyard: General Dynamic's Bath Iron Works.  You may reserve a ticket on the Bath Trolley for a BIW tour at the Maine Maritime Museum.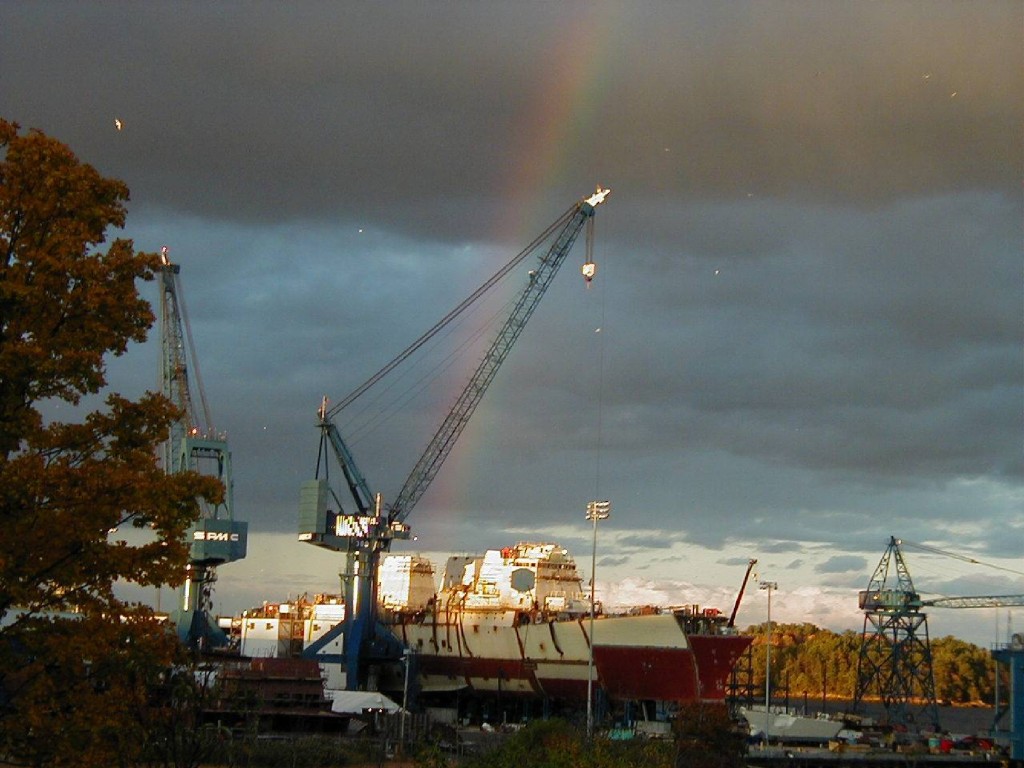 Something very special that we have here in Bath is The Chocolate Church Performing Arts Center whose diverse year-'round program offers the traveler a wonderful evening of entertainment, and is easily within walking distance from the inn.  This Gothic Revival Church was built in the mid 1800's by part of Bath's Congregational Parish.  Today it is painted a deep chocolate brown.  Our area is also fortunate to have the Maine State Music Theatre which presents a full summer of musical productions at its home stage on the Bowdoin College campus in Brunswick.
One of the places I love to send people is the Coastal Maine Botanical Gardens, on Barters Island Road in Boothbay. You are invited to visit and watch their gardens grow. Even in winter, there are sights to see and trails to walk or snowshoe. The gardens are full of interesting textures, shapes, and colors and there is a great cafe open spring – fall;  you can spend the day wandering the gardens, having a lovely lunch, and wandering some more!
High on the list of activity favorites for travelers visiting Maine are exploring lighthouses and whalewatching.  I highly recommend that you take a lighthouse water tour on the Kennebec River with one of the many local guides, or with the Maine Maritime Museum.  Whalewatching is a popular summer and fall adventure that can be booked out of Boothbay Harbor.
Another special aspect of Bath is that the Kennebec River is a major spawning ground for striped bass, attracting worldwide sportsfishing interest.  Fly and spin fishing guides are available for full or half day trips.
A very popular and growing sports activity in our area is kayaking; professional outfitters can provide you with a full range of services, including kayak and canoe rentals, beginner's classes and guided excursions. The Winnegance Creek, a 3 1/2 mile stretch of natural beauty running from the Kenn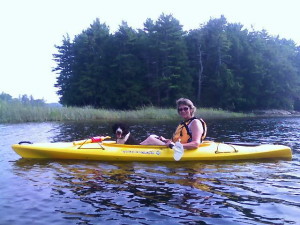 ebec River to Casco Bay is one of our area's little known jewels.   Kayaking is also popular around Baily's Island, Robinhood Cove and in the Boothbay / Christmas Cove region.  Seaspray Kayaking has three locations in our area, providing a myriad of options.
A favorite place to go hiking in the immediate area is Morse Mountain, a land trust and bird sanctuary managed by Bates College and located near Popham Beach. The "Mountain" is not really a mountain at all, but rather a forested and hilly trail periodically intersected by marshland. At the two mile mark, halfway through your hike, you will find yourself at Popham Beach overlooking the ocean. For those wanting a greater challenge, there are some wonderful hikes within a reasonable driving distance.  Cloe Chunn's "50 Hikes in the Maine Mountains" is a great reference, and we have a copy available at The Inn.
A trip to the Maine Coast is not complete without a day sail or overnight cruise out of Boothbay or Camden.  There are many anchorages such as the islands of Monhegan, Vinalhaven and Isle au Haut that make sailing the coast of Maine so unique.
Another great activity is biking.  We've some wonderful roads and neighborhoods, and The Inn has two adequate trail bikes you can borrow.  For bike rentals, equipment and trail suggestions, Bath Cycle & Ski is just across the river in Woolwich.  If you want to be challenged and are willing to venture out a bit from the Bath area, the book "Mountain Bike! Maine: A Guide to Classic Trails" is a good resource.
For golfers there is a nice 18-hole public course at the Bath Country Club.  To reserve a tee-time call 207-442-8411.  There are also three municipal hard-tru tennis courts which are available on a first come, first serve basis.
Ski areas that are within two hours of The Inn include Sunday River, Sugarloaf,Camden Snow Bowl and Lost Valley.
Halcyon Yarn, the largest distributor of yarns in New England, is located within a 10-minute walk of The Inn. They conduct classes and sell equipment for knitting, spinning and weaving.  Another special member of our community is the Shelter Institute which for over 25 years has been conducting classes on the design and building of houses, including post and beam structures. Last but not least, we have a very special treat for those who love gardens.
Bath's central location on the Maine coast makes it ideal for day trips to major points of interest.   A wonderful trip is to travel up the coast to the Camden / Rockland area, and to make stops along the way.  There are excellent antique shops in the area, from Bath to Hallowell, Wiscasset and the Damariscotta/Bristol area.   And of course, don't forget L.L. Bean and the retail outlets in Freeport, only 20 miles away.
Other Things to Do
Take in a performance at The Chocolate Church Performing Arts Center in Bath (207-442-8455) or a musical at the Maine State Music Theatre in Brunswick (207-725-8769) at Bowdoin College.
Walk the rocky beaches at Reid State Park or the white sands of Popham Beach State Park; cook-out facilities are available at Reid.
Relive our shipbuilding and sailing history at the Maine Maritime Museum in Bath (207-443-1316).
Treat yourself to a day or overnight sailing charter to explore the Casco Bay islands.
Check out the all natural groceries at Bath Natural Foods in downtown Bath. (207-442-8012)
Hike the nature trails at Morse Mountain (nature conservancy with over 70 bird species) which lead to Popham Beach.
Hit a 300 yard drive at the Bath Country Club, an 18-hole public course (207-442-8411).
Explore our historic forts in the Popham Beach area (2) and nearby Edgecomb.
Watch American bald eagles, ospreys and rare terns along our coast.
Cross-country ski in wooded conservation areas.
Spend some money at L.L. Bean and the Freeport outlets.
Visit the Maine State Museum and Capitol in Augusta (207-287-2301).
Shop at Reny's (Bath) and get unbelievable deals on name brand clothing overruns and seconds.
Explore the Giant Staircase at Bailey Island.
Visit the farmer's markets in Bath (Thursday and Saturday) and Brunswick (Tuesday and Friday).
Watch lobstermen haul traps along the peninsulas.
Take Kennebec River and light house tour boat rides from the Maine Maritime Museum
Shop for antiques in Bath, Wiscasset, Newcastle/Damariscotta and Hallowell (get list from Innkeeper).
Talk to a moose at Moosehead Lake.
Hire a fishing guide to land trophy stripers, blue fish, tuna and sharks.
Explore Monhegan Island.
Listen to the Bath Municipal Band in Library Park.
Visit the Historical Societies in Woolwich, Small Point, Phippsburg, Harpswell and Brunswick.
See the harbor seals next to Fort Popham – ones with yellow neck bands are from California.
In August, enter the annual Bluefish and Tuna Tournaments and visit the Topsham Fair.
Explore our region on the Maine Coast Railroad (800-795-5404).
Experience a lobstering village at Five Islands, Cundy's Harbor or Bailey Island.
Learn to build the house of your dreams at the Shelter Institute in Woolwich (207-442-7938.
Walk the shores and woods of Wolf Neck State Park in Freeport.
Stroll the Bowdoin College Campus and visit its wonderful Art Museum (207-725-3000, ext.3275).
Take a whale watch trip from Boothbay Harbor (800-636-3244).
Don't miss our spectacular fall foilage.
Visit the Musical Wonder House in Wiscasset (207-882-6373).
Take the Chocolate Church's Bath Historic House Tour (Tuesdays and Thursdays).
Warm up at the Peary-MacMillan Artic Museum in Brunswick (207-725-3000, ext. 3416).
Peruse the art galleries in Brunswick and Bath.
Admire the skill and artistry of our local potters at work.
Explore Maine's specialty nurseries and viewing gardens (get list from Innkeeper).
March in our Fourth of July Parade, enter and win Triathalon and enjoy Bath's Heritage Days.
Linger at one of our area's 15 lighthouses.
Check out the flea market in Woolwich.
Search your ancestor's genealogy at the Patten Free Library in Bath (207-443-5141).
Take a course in weaving at Halcyon Yarn in Bath (207-442-7909).
Visit the home of Gettysburg's Civil War hero, Gen. Joshua Chamberlain in Brunswick (207-725-6958).
Serve an ace, smash an overhead at Bath's public tennis courts.
Savor our native clams, shrimp and lobster on the wharf at Five Islands Lobster Co. (207-371-2990).