The Innkeeper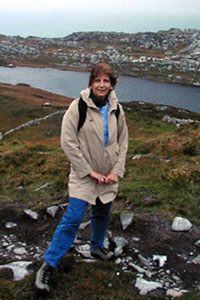 Elizabeth Knowlton, the innkeeper of The Inn at Bath since July, 2004.
My heart has been in innkeeping for a long while – before returning to Maine, I pampered and fed guests in our fly-fishing and mountain vacation lodge in Montana, and I'd been dreaming of finding the perfect Maine Coast bed and breakfast ever since. Though raised in both Central and Southeastern Massachusetts, a mix of rural farmland and incredible seacoast, my childhood summers also included visits to Blue Hill, Maine with my grandparents. The tug of Maine's unique coastline and landscape has been within me ever since!
Prior to taking up Innkeeping, I graduated from the University of New Hampshire and earned my Masters of Education from Antioch, after which I became a Child and Family Therapist in the school department while living in southern Maine. In 1987, my husband and I moved to Buenos Aires and for the next three years I taught Middle School Mathematics and we travelled – from the Beagle Channel to Machu Pichu and the Galapagos, and many, many amazing places in between. Eventually, it was time to return to the states and, after a couple of years of living and teaching in Santa Fe, we found ourselves in Montana, making our innkeeping dream a reality.
Upon returning to Maine in 2000, my bed & breakfast search began. Meanwhile, I worked in Real Estate, as an independent contractor, and finally as a public relations director. And then Nick Bayard, the former innkeeper, called to say he was selling The Inn at Bath!
Today, I am surrounded by family and friends and am doing what I love….innkeeping! Come visit soon, and experience first hand the wonders of Mid-coast Maine and the lovely Inn at Bath.