The Suite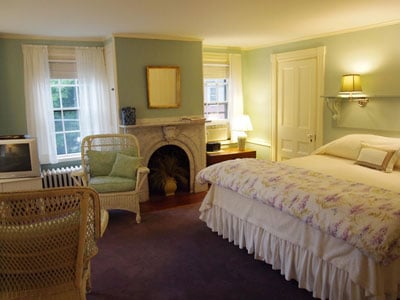 Welcome to The Suite, a perfect room for a traveling family, people who would like separate beds or rooms, or a couple who wants a lovely King room with lots of space, windows and light! More than one couple with a snorer has had the best sleep in years here!
The Suite has two bedrooms connected by a small private hallway which provides access to The Suite's private bathroom. The South Room, the largest bedroom in The Inn, has a grey marble fireplace (not operational) and a sofa and chairs in a windowed alcove with a southwestern exposure. The South has a king bed and a large closet. The Suite's second bedroom, (The Pocket Room), used to be a small sitting room and has a double (full) bed and a side table.
As with all our guest rooms, The Suite has a private bathroom, air conditioning (in-season), cable television, a DVD player (we have movies for all ages), clock radio, and WI-FI. All beds have reading lights or side tables with reading lamps.