Policies
Check In | Check Out | Advance Deposit | Special Deposit | Cancellation | Rules for Pets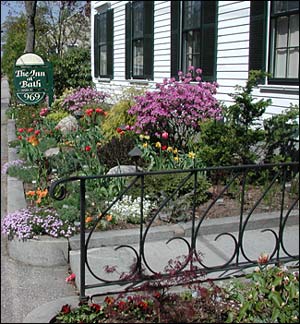 The Inn at Bath is open year-round. We normally require a two-night minimum stay on weekends, although single-night availability on Friday or Saturday nights often occurs. So be sure to check with us if you can only stay one night. Children five years and older and dogs are welcome, although they must be discussed with us before you make your reservation. (Please see our "House Rules for Visiting Pets" below). Room rates are for double or single occupancy, and do not include a third person in The Suite, for which there is an additional nightly charge of $25.00. Please note that the remainder of our guest rooms are not conducive to adding an additional person. Smoking is not permitted on the inn premises.
A complimentary full, hot breakfast is served to our guests each morning between 8:00 and 9:30 AM in our dining room. We also provide firewood in the guest rooms with woodburning fireplaces. We can provide early breakfast to business travelers. There is a 9% Maine State lodging tax which is added to our room rates. Payment can be made with Visa, MasterCard, Discover or American Express credit cards, as well as by cash or travelers checks.
The Inn at Bath is open 24 hours a day, and check-in begins at 3:00 PM.If you arrive early, you are welcome to relax in our living room, on the porch, terrace or in the garden with the morning paper and a cup of coffee or tea. If you will be arriving after 9:00 PM or in the early, early morning hours, please let us know so we can worry about you!

---
Check In
When you arrive, please use the off-street parking area and enter the building through the side door directly above this area. If Elizabeth or a staff member is not available, there will be a "Welcome Package" for you on the kitchen counter with directions to your room. The Welcome Package will also have a "Breakfast Sheet" attached which you need to fill out and leave in the kitchen before you go out for dinner. Should you have any questions or need assistance, please use the telephone in your guest room (call 443-4294 or 751-9767) or use the call boxes located on the side and front porches.

---
Check Out
We ask our departing guests to make their guest rooms available by 11:00 AM so our staff can prepare them for the incoming guests. Often guests will check out but then take one last walk through town, returning later for their car.  Please let us know if you choose to do this.

---
Advance Deposit
Generally we do not require advanced deposits, but rather hold your credit card information as security for our guaranty of your reserved guest room (s). Large bookings of many rooms for one or more days will involve a deposit at the time of the reservation.

---
Special Deposit
We should add that with full-inn bookings and school or college graduations, we require a 50% advance deposit payable at the time of original booking and the remainder payable upon arrival.

---
Cancellation
If you need to cancel or reduce the duration of your reservation, you must do so at least 15 days prior to your originally scheduled arrival date in order for us to refund your deposit check. If you cancel or reduce the duration of your reservation during the 14 days preceeding your originally scheduled arrival date or reduce the duration of your stay after you arrive, you will be financially responsible for the entire amount of your originally scheduled lodging, except for those nights we are able to rebook.

---
House Rules for Visiting Dogs
Dogs are the only pets that we have visit the Inn, and not all rooms are available for this purpose. We charge a nightly fee of $10.00 per pet. We hold all pet owners financially responsible for any and all pet stains/damage to The Inn premises/property, which  can amount to a substantial sum of money.  To minimize the chances of such damage, the following house rules must be strictly adhered to by pet owners:
All dogs must be completely housebroken – we cannot accommodate incontinent animals.
Dogs cannot be left alone in guest rooms at any time.
If your dog sleeps on the bed with you, please bring a clean sheet or towel to place on the bed before they hop up.
As a courtesy to the other guests, we cannot tolerate barking or howling dogs in The Inn or in guest's cars parked in our parking area.
During wet or muddy weather, please towel off each time your pooch is brought into The Inn or through your guest room's private outdoor entrance. If you didn't bring your own dog towels, just ask to borrow some from us. Also we have a hose in the garage to wash off muddy paws. Just ask for directions to the garage. Please don't give your pup a bath in your tub or shower.
Dogs are expected to be fed in bathrooms or their crates. Be conscious of spilled water please.
Please pick up after your dog; we have plastic bags and you can place the used ones in the small metal trash barrel underneath the staircase leading up to the kitchen entrance.
You and your pups are permitted in any of the public rooms of The Inn as long as other guests do not complain – please be sensitive to guests who are not dog lovers.
Owners who are unable to abide by these House Rules will have to board their pups in a local boarding kennel.
If we determine that your guest room or the public areas of The Inn, or any personal property belonging to The Inn (such as rugs) within such guest room or public areas, has sustained damage or loss because of your animal's behaviour, we reserve the right to charge your credit card for the full amount of the loss or the cost of repairing or cleaning the damage.