Inn Policies and Information
Check In/Check Out | Payment | Cancellation | Guest Room Availability | Policies and Information for Visiting Dogs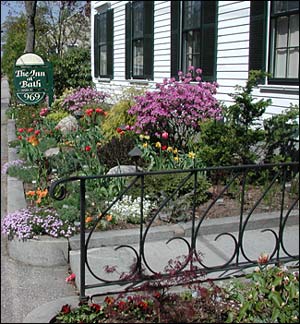 There is a two-night minimum stay at The Inn at Bath.
Complimentary breakfast is served to guests between 8:00 and 9:30 a.m. in the dining room. Early or to-go breakfast can be arranged based on availability and with at least 24 hours notice. Unless you provide it prior to arrival, and so that we can be sure to have appropriate food and beverage options available to meet your needs, we will discuss your food and hot beverage preferences during the check-in process. Please feel free to send us an email with this information ahead of time if you would prefer.
Our Inn is most comfortable for children eight years of age and older.
Dogs 50 pounds and under are welcome to stay with you in The Cabin and The Garden Room for a fee. Please see our "Policies and Information for Visiting Dogs" below, and talk with us about your pet before booking.
Smoking is not permitted on The Inn premises.

---
Check In/Check Out
Normal check-in hours are between 3:00 and 6:00 p.m. daily. When you arrive, please use our parking lot on North Street, and enter the building up the stairs from this area. We prefer to greet our guests personally; if you will be arriving later than 6:00 p.m., please let us know in advance so that we can plan to be available or make arrangements with you. While our plan is to be available to greet you, should you arrive to find us out, please call the Inn telephone number at (207) 443-4294.
Unless otherwise discussed and agreed, check out is at 11:00 a.m. You are welcome to leave your car in our parking lot if you would like to visit about town on the day of your departure. Please let us know if you choose to do this so that we an ensure parking space for newly arriving guests.

---
Payment
Room rates are for double or single occupancy for all rooms except The Suite, which accommodates three people. Maximum occupancy in The Suite is four people; a fee of $20 is charged for a fourth person in this room. Please note that the remainder of our guest rooms are not conducive to additional guests. We will charge your credit card for one half of your total room bill upon booking, and the other half and any additional charges when you check out. The exception to this is for events, which will have a payment schedule laid out in an event agreement. The Maine state lodging tax of 9% is added to your room fee. We accept most major credit cards.

---
Cancellation
For cancellations received up to 14 days prior to your originally scheduled arrival date, we will refund your payment minus a $10 processing fee. If you cancel or reduce the duration of your reservation during the 13 days preceding your originally scheduled arrival date, or reduce the duration of your stay after you arrive, you will be financially responsible for the entire amount of your originally scheduled lodging.

---
Guest Room Availability
We reserve the right to change the room you've booked to a similar or better room should we need to do so to manage room inventory or make repairs in the room you've selected. Should we upgrade your room for these purposes, we will honor the originally quoted room rate for your stay.

---
Policies and Information for Visiting Dogs
Dogs are the only pets that we have visit The Inn, and only The Cabin and The Garden Room are available for this purpose. We charge a fee of $50.00 per dog for your stay. We hold all pet owners financially responsible for any and all pet stains or damage to The Inn premises and/or property, which can amount to a substantial sum of money. To minimize the chances of such damage, the following house rules must be strictly adhered to by pet owners:
All dogs must be completely housebroken. We cannot accommodate incontinent animals.
Dogs are not allowed in public rooms in The Inn and cannot be left alone in guest rooms at any time.
As a courtesy to other guests, we cannot allow barking or howling dogs in The Inn or in cars parked in our parking area. We reserve the right to curtail your reservation if your dog's behavior is disturbing other guests in The Inn. Cancellation policy refund rules apply should we find ourselves in these unfortunate circumstances.
During wet or muddy weather, please towel off your pooch each time you enter The Inn or your guest room through private outdoor entrance, and please be sure to include your dog's paws when toweling off. If you didn't bring your own dog towels, just ask to borrow some from us. Please do not use guest room towels for wiping down your wet or muddy dog. Dogs are not allowed to be bathed in whirlpool tubs or showers.
It is preferred that you bring a crate for your dog to be in at night, and while we appreciate the desire to have your pup snuggle up with you, please do not invite your dog onto the bed without covering it first with sufficient blanket that pet hair and dander can be contained. We have blankets available for this purpose if you have forgotten to bring your own.
Please bring your own pet food and water bowls, and wipe up any spilled water or food as soon as possible. Let us know if you need assistance with the clean-up of any mishaps in your room.
Many of our guests enjoy taking their dog to the Bath dog park. Please be sure to clean up after your dog outdoors and bring a sufficient supply of bags for this purpose. We have a limited supply of plastic bags available should you run out of your own; please let us know if you need some to hold you over until you can get to a store to purchase more. Used bags must be placed in the labeled metal trash barrel underneath the parking lot staircase.
Owners who are unable to abide by these House Rules will have to board their pups in a local boarding kennel.
If we determine that your guest room or the public areas of The Inn, or any personal property belonging to The Inn within your guest room or public areas (such as rugs, furniture, or bedding), has sustained damage or loss because of your animal's behavior, we reserve the right to charge your credit card for the full amount of the loss or the cost of repairing or cleaning the damage. Note that this may occur after you leave The Inn if damage is discovered during the housekeeping process after you depart.