The Loft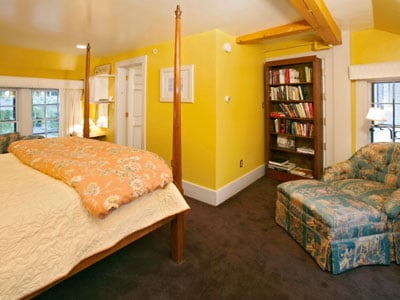 With a cozy reading corner and four poster queen sized bed, The Loft is a cheerful room, believed to have once been the nurse maid's quarters. Located up the back stairs of The Inn, the sunny yellow walls and beamed ceiling make a happy and welcoming space. Guests delight in the reading corner, with it's built-in bookcase concealing a door to the adjoining Lavender Room. The Loft also features plentiful large windows that can be opened to allow fresh cross-breezes, a four poster queen sized bed and a loveseat. The private bath has a marble tile floor, a step-in shower with built-in seat, a pedestal sink, and a bidet.
Take a cup of tea to the pleasant reading corner of The Loft to relax after a busy day of sightseeing and activity. One of our most popular rooms for single travelers, book this room early to ensure availability for the dates you desire!
The Loft can be combined with the Lavender Room to create a two-bedroom, two-bathroom suite. It has air conditioning, individual room temperature control, wifi, and, of course, includes parking and complimentary farm-fresh breakfast.